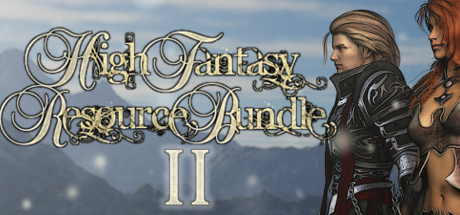 This is the follow-up to the hugely-popular High Fantasy Resource Bundle. And wow, this one is even BIGGER! This bundle includes the following:
60 Battle Backgrounds and Parallax Images
Nearly 600(!!!) character sprite sheets (most characters have a primary 4-direction sprite sheet, an additional sprite sheet for 8-directions, and a pose sprite sheet primarily for down poses).
216 Character Face Portraits!
146 Front-View Battlers and 145 Side-View Battlers (that is about 50% more than the first Bundle!)
3 brand-new graphical overlays for Torch Light, Lamp Light, and No Light for dungeons.
41 Tile Sheets, including 13 Auto-Tile sheets!
Bonus Script included for RPGMaker VX Ace!